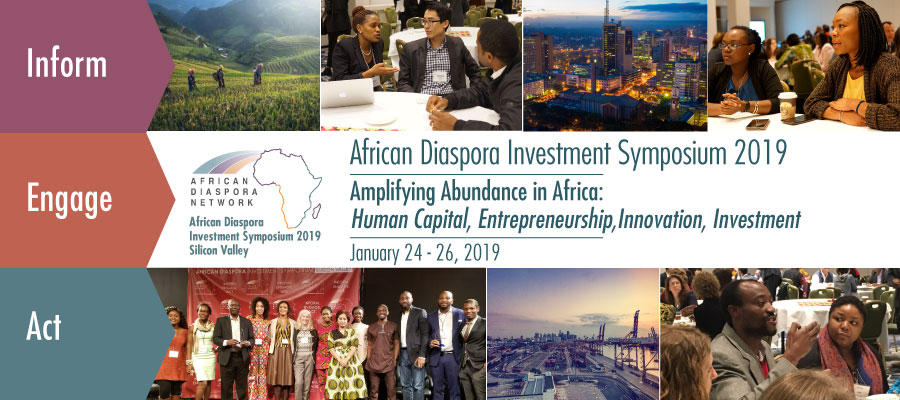 Dear Friends,
We are excited to announce the Fourth Annual African Diaspora Investment Symposium 2019 (ADIS2019), taking place at the Computer History Museum in Mountain View, CA, from Thursday, January 24, to Saturday, January 26. This year's theme "Amplifying Abundance in Africa" features ecosystems of investment, innovation, human capital development, and entrepreneurship. The array of session topics will be led by an amazing set of speakers, moderators, and panelists that we will share with you in the weeks to come.
The ADIS19 themes are possible thanks to the insight and commitment of the African Diaspora Network Executive Advisory Council. We appreciate their leadership for involving new and different stakeholders, further aligning our vision and mission of bridging Diasporans, Africans, and friends of Africa toward the common cause of uplifting the continent.
The African Diaspora Network continues to grow in numbers, reach, content, and commitment. Over the past ten months, we have made tremendous progress in advancing the Africa Impact and Innovation Series and have hosted four regional convenings each session curated to address the four areas of the 2019 symposium: Investment, Innovation, Human Capital Development, and Entrepreneurship.
April (Silicon Valley): Ernst & Young on Investment Opportunities in Africa
July (Silicon Valley): Silicon Valley Investors on Africa
August (Washington D.C.): Harnessing the Knowledge and Resources of Africans in the Diaspora for Positive Impact
September (NYC): Changing the Narrative: African Innovation Driving Global Transformation.
From Silicon Valley to the East Coast, we have scaled our convenings to Washington D.C. and New York with standing room-only attendance. The convening's have been fully supported by grassroots organizations and Diasporans, and we thank each and everyone of them.These are only a few among many of the outcomes of our 2018 symposium. We have heard from several of you the impact that ADIS has had on your work, creating opportunities to connect with companies like Johnson & Johnson or spurring business development in technology, as well as providing pathways to procure deals and obtain funding.
As ADN scales, so does the incredible work of the network. We invite you to continue making strides with us, and look forward to seeing you at ADIS2019 in January.
Almaz Negash
Founder & Executive Director, African Diaspora Network
Executive in Residence, Global Leadership Advancement Center (GLAC), San Jose State University
>