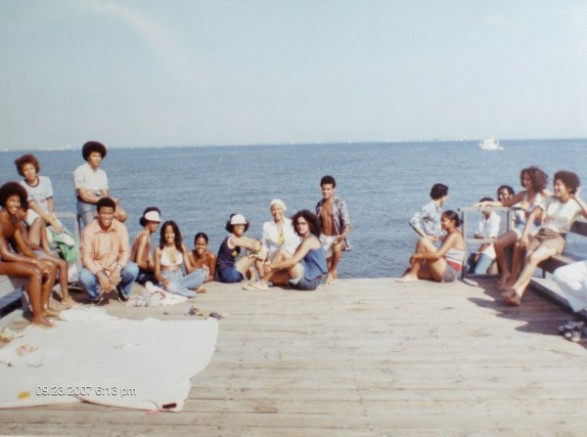 If you did not get to go in summer 2016, plan to visit one of these beaches now. Elle gave us this round-up on 10 historic black beaches to visit in an article in Black Girl w/ Long Hair:
In 2016, we take going to the beach and hanging out with friends and family for granted — we don't have to worry about which beach we're allowed to visit or if we'll be harassed or asked to leave.
There is a rich history in beach culture for black Americans and visiting the beaches below may give you a glimpse into just how far we've come when it comes to getting our seaside daily dose of vitamin D.
1- Highland Beach (Highland, MD) was founded by Charles Douglass, son of Frederick Douglass, and his wife Laura in 1893 after they were denied entry at a nearby resort restaurant because of their race. The 40-acre tract on the Chesapeake Bay became a popular spot for many notable blacks of the period and still represents the history of its time, housing Twin Oaks, the Frederick Douglass Museum and Cultural Center.
2- Rainbow Beach (Chicago, IL) may not have always been a beach popular with the black community, but it certainly has historical ties. In 1960, a diverse group of patrons initiated a "wade in" at the beach due to racial tensions and public segregation, and again in 1961. Now, the neighborhood is 95% black and in 2011, a coalition of civil rights and labor groups dedicated a historic marker at the beach to commemorate the demonstrations that helped end a long-tolerated injustice.
3- Atlantic Beach (Horry County, SC) was nicknamed "The Black Pearl" in the 1940s and 50s as one of the most popular black beaches of that time — Ray Charles, Billie Holiday, James Brown, The Drifters, and Otis Redding all visited the area and it was often seen as a place to unwind after black performed play at white beach clubs and resorts. Today, it is one of the only black-owned beaches in the Nation. It's also home of the annual Black Bike Week, so if you don't like crowds, avoid Memorial Day weekend.
4- Oak Bluffs (Martha's Vineyard, Mass.) is a repeat vacation spot of President Obama, hosting an African American Heritage Trail and seen by many as a "vacation mecca." Although it is considered an integrated area, it was always a place where black beach goers could feel comfortable and welcome. It also houses the historical "Inkwell Beach" and is a favorite of several black celebs. White parties, anyone?
5- American Beach (Jacksonville, FL) was founded in 1935 as the only beach resort area that allowed black people. The land was purchased by Abraham Lincoln Lewis, who was Florida's first black millionaire and president of Florida's first insurance company. The community is still very much in touch with its notable history, housing an American Beach Museum containing memorabilia from residents and visitors, especially A.L Lewis' great-granddaughter, known affectionately as "The Beach Lady."
6- Sag Harbor (Suffolk County, NY), part of the ever fabulous The Hamptons, is remembered as a "refuge from racism" in the early 1900s and includes five historic black communities — Sag Harbor Hills, Azurest, Ninevah Beach, Eastville, and Hillcrest Terrace. Now, the area is only reportedly 7% black, and the community is struggling to hold onto their history despite honoring their values and traditions. OWN Network profiled the community last year — you can check it out here.
7- "The Inkwell" (Santa Monica, CA), not to be confused with Inkwell Beach in Martha's Vineyard, refers to a 200-foot stretch of beach where black patrons were allowed in the 1920s, one of the only beaches of the kind in the county. It was born out of a tragic event in Topanga Canyon and became very popular among the black community. Nick Gabaldon, who is reportedly the first Black American surfer, also frequented the beach. Gabaldon unfortunately died in a surfing accident at 24 years old, but his legacy lives on — in 2008, Santa Monica recognized Gabaldon and the historic beach site with a landmark at Bay Street and Oceanfront Walk and now hold an annual Nick Gabaldon Day.
8- Bruce's Beach (Manhattan Beach, CA), another LA-area beach, was established by Willa and Charles Bruce, who recognized the issue of segregation in the surrounding area and the lack of beach property available to black locals. However, racial tensions caused for the eventual demise of the resort, but it was renamed in 2007 to pay homage to its origins and the progress that the initiative brought to the area. Chicken Bone Beach.
9- Chicken Bone Beach (Atlantic City, NJ), also known as Missouri Avenue Beach, was a largely popular area among black entertainers during the 1950s — I think you all knew that this post couldn't be complete without an Atlantic City beach. Sammy Davis Jr., Billie Holiday, and "Moms" Mabley were just some of the notable people basking in the sun on this "two-block stretch of sand." The history of the beach is still alive and well, hosting an annual jazz series and actively commemorating the beach through the Chicken Bone Beach Historical Foundation Inc.
10- Freeman Beach (Wilmington, NC), later nicknamed Seabreeze, was a popular resort area during the Jim Crow Era. It housed 31 juke joints and the beachy atmosphere of cottages and hotels attracted all types of people. Like most of the beaches on this list, the area somewhat declined after the Civil Rights Act of 1964 (which is a good and bad thing), but there is now renewed interest in preserving the resort's history. Last year, the TheatreNOW Dinner Theater in Wilmington ran a "Summers at Seabreeze" show, which celebrated the era through song.
Do you plan on visiting any of these beaches? Do you know of more?
Top photo Highland Beach, Md. Credit: Black Girl Long Hair
Source: http://blackgirllonghair.com/2016/06/10-historically-black-beaches-to-visit-this-summer/