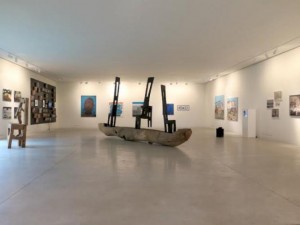 AD Tourism prints a Roundup of Top Ten Contemporary West African Art Galleries by  Christie Uzebu in CP Africa:
With a storied history encompassing the Ghana and Sosso Empires and 19th century colonialism – together with a rich culture of traditional music, art and dress – it would seem that West Africa embodies a hub of education, creation and innovation. Here are top ten contemporary art galleries in West Africa, from the Ivory Coast to Nigeria.
Galerie Cécile Fakhoury | Abidjan, Ivory Coast
The Ivory Coast is fast becoming one of West Africa's artistic hubs, with an impressive selection of contemporary art galleries springing up all over the capital. Galerie Cecile Fakhoury is just one of these, featuring exhibitions by artists that are sought-after not only locally, but internationally. Its clean, minimalistic setting allows the artwork to take centre stage, with its walls adorned by the likes of Vincent Micheam whose portrayal of bygone-era Dakar transports the beholder to a time of elegance and glamour. Also featured are the colourful paintings of local artist Paul Sika, which expertly depict the contrast between past and present-day West Africa.
Galerie Peter Herrmann | Lomé, Togo
In 2013, German gallery owner Peter Herrmann made the risky decision to move his business from Berlin – an artistic Mecca – to the lesser known cultural centre of Lomé, Togo. This was based on the fact that contemporary art by African artists was not enjoying the success it deserved in Berlin and at the same time, Herrmann had identified a growing demographic of middle class art-lovers in Togo. The combination of the two resulted in the opening of the Galerie in Lomé, which features a wealth of world-renowned artists such as Liz Crossley, Aboudramané and Bill Kouélany, to name just a few.
Omenka Gallery | Lagos, Nigeria
At the forefront of the contemporary art scene in Lagos is Omenka Gallery, a premier institution when it comes to presenting the freshest artistic talent that Nigeria has to offer. From its exhibitions to its international art-fairs, the variety and quality of modern art in Omenka is nothing short of impressive. One of the gallery's strongest features is its ability to take aspects of Nigerian history and culture – be it the hairstyles or the traditional dress – and put a modern twist on them, creating exciting and fascinating exhibitions. This, contrasted with striking images of an older, less developed Africa, make for great viewing.
CCA | Lagos, Nigeria
The Centre for Contemporary Arts in Lagos is a modern, not-for-profit space allowing artists to share their work and promote discussion about contemporary visual art and culture. The Centre is awash with exciting events and puts a great deal of focus on audio-visual art which, in their words, has been 'under-represented' in Nigeria. The expansive visual art library is a great resource for locals, whilst the installations keep the interest of visitors from both near and far. If you are at a loose end in Lagos, the chances are that something will be happening in the CCA.
Eureka Galerie | Abidjan, Ivory Coast
Eureka Galerie is home to one of the Ivory Coast's most diverse contemporary art collections, featuring a number of artists – both local and international – whose styles are both unique and varied. Artistic residents include the likes of Gabriel Eklou from Ghana, whose minimalist, long-limbed figures depict ambition and the struggle for progression in West Africa. Eureka Galerie also features representation of home-grown talent, such as Salif Diabagaté, for whom art remains a labour of love despite having most of his works destroyed during the violence of the Ivorian Crisis in 2011. The gallery has produced a number of successful exhibitions in recent years, featuring cutting-edge artists from both near and far, including celebrated French artist Jean Claude Heinen.
Fondation Zinsou | Ouidah, Benin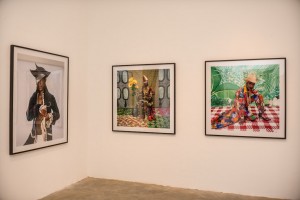 Benin is not famed for its contemporary art. Fondation Zinsou however, is doing its best to change that. With the aim of reducing poverty at its core, the Foundation hopes to use art as a conduit for development, whilst at the same time raising the profile of contemporary art in Benin. At a local level, the Foundation runs a series of educational programmes, allowing school children access to art by means of activities such as the Culture Bus (Bus Culturel), while fresh, modern installations by national and international artists continue to attract Ouidah's art aficionados. From the outlandish sculptures of Romuald Hazoumé to street-art inspired works by Jean-Michel Basquiat, you are bound to find something that appeals to the artist within.
Galerie Le Manège | Dakar, Senegal
Galerie Le Manège opened in 2009 in conjunction with the capital's Institut Français. The gallery's mission is to represent Senegal as a country in flux, as shown through the changing face of the contemporary art scene. The space itself aims to impress, with its high-ceilings and wooden beams, whilst the outdoor exhibition area – nestled amongst the Colonial-era buildings – provides a fascinating juxtaposition between the old and the new. The exhibitions hosted by the Galerie – and by the Institut Français in general – are a tribute to everything related to Senegalese culture and aim to help visitors gain insight into what it means to be Senegalese in this ever-changing region of the world.
Galerie Nationale d'Art du Sénégal | Dakar, Senega
Senegal has historically been a front-runner when it comes to promotion and appreciation of modern art in West Africa. Its biannual Dak'Art festival has been hugely successful in garnering local and international attention and has led to the development of a thriving art scene in the country's capital. The Galerie Nationale d'Art is home to what is probably the country's most eclectic collection of modern art and regularly puts on exhibitions that will impress tourists and passers-by. Its interaction with Senegalese art collectives and independent organisations means that it is a regular host venue for artistic events and festivals.
Nubuke Foundation | Accra, Ghana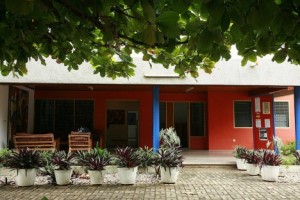 If you are looking to get better acquainted with Ghanaian culture, look no further than theNubuke Foundation. Nestled in central Accra, the Foundation is a melting pot of modernity, tradition, culture and style. Nubuke displays an impressive collection of art from such names as Serge Clottey, Oko Martey and Mary Evans, and regularly hosts meet-and-greets with the artists themselves. Their workshops offer locals and tourists the opportunity to actively participate in the Ghanaian art scene and the recent opening of their gallery – Nu Gallery – has been a welcome addition, exhibiting a vast array of paintings, sculptures and mixed media from a series of celebrated artists.
Thought Pyramid | Abuja, Nigeria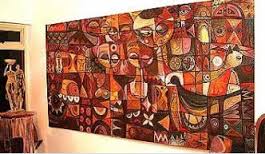 Thought Pyramid is more than just an art gallery, it's a centre for art education. Featuring both local Nigerian artists and those from the Diaspora, the gallery displays some of the country's cutting-edge artists and fuses together a combination of paintings, sculptures and everything in between. Their mission statement is to 'collect, conserve, study, and sell' contemporary art, and their exhibitions and events attract tourists and locals alike. Thought Pyramid lives up to its mission to educate through its Art Club and 'Learning Through Art' programmes, providing lessons for school children in order to promote the value and appreciation of contemporary art in Nigeria.
The post West Africa's 10 Best Contemporary Art Galleries appeared first on CPAfrica. http://www.cp-africa.com/2015/04/20/west-africas-10-best-contemporary-art-galleries/?utm_source=feedburner&utm_medium=email&utm_campaign=Feed%3A+CelebratingProgressAfrica+%28CP-Africa%29