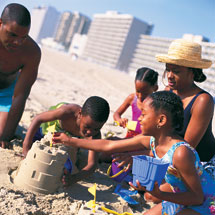 African-Americans and blacks around the world continuously make impacts on the travel industry.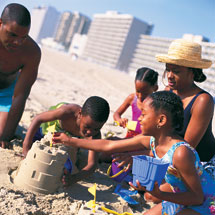 More than ever before black people in the United States and all over the world are enjoying the benefits of travel. As evidenced by the growth in black tourism and travel-related businesses, African Americans are cashing in on the rewards of travel in many ways. According to the Travel Industry of America (TIA), the African American segment of the U.S. population represents one of the fastest growing markets in the travel industry. A few generations ago black people travelled mostly to visit relatives and to attend family reunions, funerals, graduations and other mostly family-related trips that they deemed necessary. The face of black travel today has continued to change as travel has steadily increased for vacations, leisure, meetings, cultural-related activities and educational reasons that are not necessarily related to family visits.
As more and more blacks attended college, made financial gains and enjoyed more affluent lifestyles, travel became an integral part of their leisure and business lifestyles. In 2006, black had a spending power of $700 billion according to Black Market News. Black people at an alarming rate are beginning to invest many of their leisure dollars into travelling. The African-American affluent market, as well as the working-class market will definitely have quite an impact on the tourist industry.
The reasons for black travel today vary from family-to-family and person-to-person.  We are attending different cultural events and business meetings. We are college students who are traveling to various sporting events, concerts, and different settings for spring break. We are families going to the beach or mountains for vacations, and staying at first-class hotels and resorts. We are young adults attending the Caribbean and other Afro-centric festivals. The number of black people who are travelling abroad to Europe and other countries just for the travel and educational experiences is continuously increasing. And yes, black people are visiting Africa. Many are dreaming of a trip to the Motherland and the number acting on that dream has continued to grow with every passing day.
The World Tourism Organization currently ranks the African Continent as one of the fastest growing destinations for international tourists. Many travel-related organizations, businesses, airlines, as well as government agencies are working together to make Africa one of the world's premiere travel and tourism destinations. Africa offers many different types of vacation experiences. In addition to culture and heritage tourism, Africa offers mountains trips, some of the world's most beautiful sandy beaches, lush resorts and an exciting nightlife. Many black people are traveling to Africa to discover their roots. People all over are looking at Africa for investment opportunities.  Traveling to and within Africa is an integral part of African Diaspora tourism.
African Diaspora Tourism and black travel also include the Caribbean.  People of African descent are dispersed throughout all of the islands there.  Blacks from all around the globe have continued to go for vacation and festival fun. More and more people have begun to visit historic and heritage sites on the islands as new sites related to slavery and black heritage are being established.   A Bahamas vacation remains popular among black. Many of all age groups take cruises to the islands and group tours are very popular ways to travel. The Minority Traveler has reported that compared to travelers overall, nearly three times as many African-American person-trips involve group tours.
Many black couples are taking their children to Afro-centric heritage sites. While they are still visiting theme parks and going on leisure trips with their children, parents are also making sure that their children learn about their history.  Understanding the rewards and benefits of travel, they are teaching their children about travel and taking them on educational trips at early ages. One piece of advice for parents travelling with children is from travel and hospitality writer Roy Williams who says that it is important to pick age-appropriate places, and places that will be interesting to children when choosing sites to visit. Planning ahead is crucial for couples with children when taking family vacations says Williams who specializes in writing about traveling with children.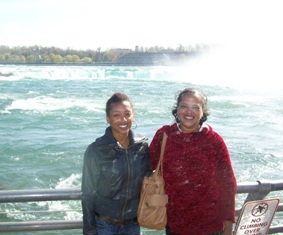 Family travel can be very rewarding not only because of educational opportunities, but also because it is a time when families get to further bond and create fond memories. When children start traveling and learning about different places at an early age, they are more likely to continue to be interested in traveling and making it a part of their educational experience as they grow older. College instructor and travel writer Daiyyah Abdullah says that educational travel helps students to broaden their experiences. "Educational travel leads students to become conversant in both international and national issues. International travel expands one's global perspective while domestic travel expands one's knowledge about the various cultures, traditions, and socio-political issues of one's own country," she says. Abdullah, who once created an online magazine where college studies write about their travel experiences, believes that educational travel for both college and secondary students encourages students to become involved in global learning.
Whether travelling for educational purposes, visiting family, doing business or taking cultural trips, black travel today has continued to progress. African American travel volume has continued to increase every year. Whatever the reasons for the ever changing black travel experience, black people are definitely contributing in every way to the livelihood of the tourism market.  Research shows that African-American households spend about $500  per trip, on average, excluding spending on transportation to their destination. These overall statistics on black travel have continued to rise in the last couple of years. As black travel trends change and expand, it is a given that its growth impact on the tourism market in the present and coming years will be positive for everyone.