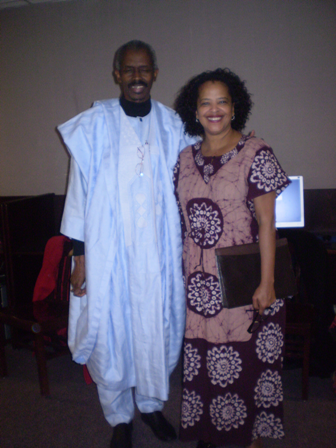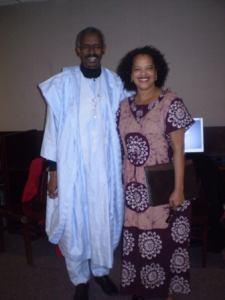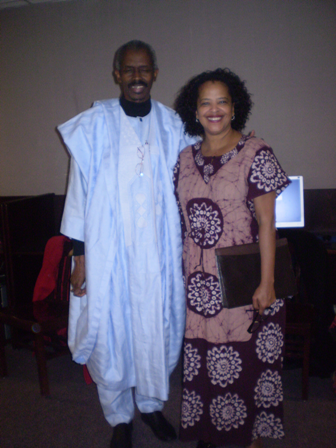 Ogo Sow, a native of Senegal is a broadcast journalist and host of the first African émigré and expatriate radio program in the United States. Sow's radio show, "Mr Africa Live," features news, in-depth interviews, and African music and can be listened to in English, French, Creole and Wolof.
Affectionately known in America as "Mr. Africa," Sow is also a senior advisor for the African Travel Association on African Diaspora affairs who has reported extensively on major stories for ATA from Cameroon, Djibouti, Ethiopia, Ghana, Nigeria, South Africa, and Tanzania.  In 2001, Sow founded Ogo Sow Communication Network, a series of African radio programs for African Diaspora communities in New York, Atlanta, Philadelphia, and Los Angeles. He later moved to Atlanta to host "Night Watch," an interactive radio segment on Africa that he hosted until 2005.
Sow has received a number of awards from the media and the African Diaspora community in recognition of his efforts to keep the émigrés and expatriates, as well as those interested in African politics, culture, music and events, connected to the continent. As one of the finest commentators on Africa, Sow brings his experience, knowledge, and expertise on the media, travel and tourism, and arts & culture to corporate, civic and academic symposia and seminars around the country.  A great communicator, Sow has a knack for connecting with people and bringing them together.  Having been appointed as the Official Promoter of the 2011 International Roots Festival in the Gambia, Sow will be taking a delegation of media and travel specialist to this celebratory event.
AfricanDiasporatourism.com (ADT) talks with Sow about his work in African Diaspora communications and tourism.
1) ADT – Have you always wanted to have a career in broadcast journalism?
Sow- No, when growing up, the only thing I dreamed of is traveling around the world. As a child in Senegal, I remember a dream I had of traveling to Paris, and I could see the plane so clearly in my dream.  My traveling around the world now is proof that dreams do come true. So I have always wanted to have a career involving traveling and it is through traveling that I got started in broadcast journalism.
When I came to New York in 1984, there was no radio or TV show run by a Senegalese or even an African show host. So I said to myself we should have a voice and get better organized because in this country everything is organized. I thought why not start campaigning to my fellow Senegalese brothers and sisters for a community-based association to inform, educate and guide us to a better understanding of American culture.
One day I was introduced to one of the Haitian community leaders who told me to come by his radio show to talk for thirty minutes to the African community and to exchange ideas. Afterwards he gave me 30 minutes a day to be on the show. I became the first African emigrant to be hired by commercial radio stations in New York. That's how I got started in broadcast and I went on to launch my own radio show.
2) ADT – What are some of the things that you want to accomplish with your radio talk show and who are some of the noted people who have been on your show?
Sow– One of my main goals is to bring families of the African Diaspora closer together and closer to the mother continent of Africa.  I want better communication between black people of the Caribbean and America as well as all people of the Diaspora.  I also use my radio show as a platform to interview leaders in tourism and things related to the culture and heritage of Africa and the Diaspora.
I once interviewed Koffi Annan former UN secretary and General.  I was the first African journalist to interview Koffi Annan. I once interviewed David Dinkins former mayor of New York; President Abdoulaye Wade, President of Senegal; Jean-Bertrand Aristide former President of Haiti and many African leaders.   My interview with African Travel Association (ATA) Executive Director Eddie Bergman and Minister of Tourism and Culture of the Gambia Mrs Fatou Mass Jobe were both very delightful. On the show I have also had African film makers as well as African artists, singers and musicians.
3) ADT – As the official promoter of the Gambian Roots Festival, what do you expect to accomplish from taking the travel delegation to this festival?
Sow – I would like for this journey to be a way of reconnecting Africa and its Diaspora. We will be attending the Roots Festival to celebrate our ancestors, our culture and our history. We want to create many bridges between Africa and its Diaspora. By attending the festival, we will be able to better promote the agenda of the African Diaspora coming together when we get back to America.
4) ADT – What do you think are some things that can be done to bring Africa and  the people of the Diaspora together to learn more about their culture and  heritage?
Sow – We need to organize more culture and tourism groups like the African Travel Association (ATA).  We need to set up programs and conferences dedicated to educating the people of the Diaspora.  We need to organize to bring Africa to the world and the world to Africa. Africa has everything just like the other continents to compete in the world market.  It will take commitment and dedication to bring the Africa Diaspora agenda to the forefront for a dialogue on understanding diversity and multiculturalism.
5) ADT -How many African countries have you visited yourself and how often do you return to Africa?
Sow –I usually go to Africa two to four times a year.  I am blessed because I am still learning about my people and our history through being involved with the ATA conferences. I have visited 39 countries in Africa. I have also visited 20 European countries and three Arabic countries. It helps for me to visit other countries if I am to help educate the world about Africa and bring Africa to the world stage.
6) ADT – Do you have any plans to ever move back to Africa?
Sow – Of course, I would like to go back one day to be next to my mother and children. But I am an American citizen now and I have children here. Also I am becoming a bridge builder between the USA
and Africa. I am in love with America because America gives me a lot.  But I also love my homeland of Africa.  Americans are calling me Mr. Africa because I love the Mother Continent.  But now I choose to be an American citizen because one day one or two of my children will serve this great country of peace, democracy and human rights.  America is a country of lot of opportunities and you can make your dreams come true if you have a vision and commitment. So I call both Africa and America home because I feel like I am a part of both countries.
7) ADT – What are your plans for the future career in communications in terms of promoting Africa and her Diaspora?
Sow – I would like to continue working to build successful communication networks between Africa and her Diaspora, and the people of America and around the world.  I will always be working to promote Africa in a positive light. African people together can make a difference for themselves.  I will continue working for the economic development, financial freedom and business investments for Africa and its Diaspora. I would like to see one umbrella Diaspora organization before I go to God's Kingdom.
For more information, visit www.OgoSow.com.
To see more ADT Spotlight Interviews, click here.
Photo: Ogo Sow with ADT's founder, Kitty Pope