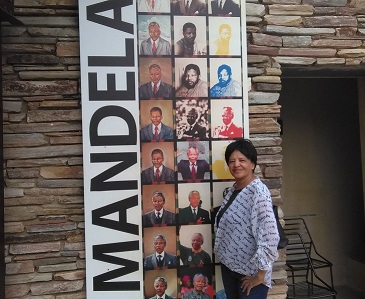 Explore Mandela Heritage Trail and Exciting Adventures in Top Vacation Destination Country
By Kitty J. Pope:
One of the top two most visited countries in Africa, South Africa is a beautiful, radiant country that has something for everyone. South Africa is where you get to do all types of tourism- culture, safari, entertainment, beach fun, museums, shopping and anything you want. After enjoying a fabulous tour of Africa's southernmost country, we are going again in November, and this time you must join us. Why should I have all the fun? The commemorative Nelson Mandela Heritage Trail and exciting adventures await you in South Africa. Let's do it again!  I am ready. Are you?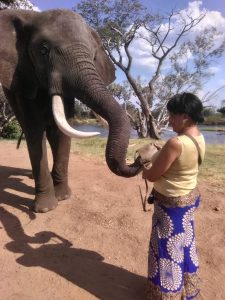 My tour of South Africa was the trip of a lifetime. There was nothing we did not do, and nothing was off limits, not even petting and feeding elephants at the Elephant Cafe in Zambia, where we enjoyed High Tea in the afternoon complete with exotic finger foods. When on the road to the Elephant Cafe, we stopped at an outdoor market and picked up all types of Africa-inspired gifts and souvenirs. Returning from the cafe, we spotted elegant giraffes that seemed to enjoy having us snap pictures of them. We got a chance to mingle with the locals to get a feel for what the culture was like.  While in Zambia, we did a slow lazy riverboat cruise on the Zambezi River that is in between Zambia and Zimbabwe. While cruising, we had cocktails and delicious hors d'oeuvres and took in one of the most beautiful sunsets.
I love that we included Zambia as the last leg of our South African tour because the highlight of this country was visiting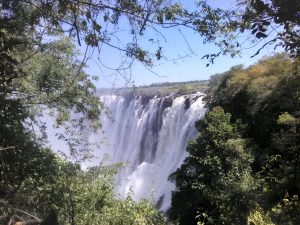 Victoria Falls, the world's largest and most incredible waterfalls which is one of the seven wonders of the world. We did the walking and hiking trail along the falls where we got face-to-face views of the rushing roaring water and even witnessed a rainbow created by the sun shining on the great falls. One of the amazing features is the huge spray mist created by the fall that can be seen for miles. The locals call the mist "The Smoke that Thunders." Victoria Falls is where the great Zambezi River (where we did the riverboat cruise) plunges dramatically into the vast chasm of the Zambezi River Gorge creating a spectacle falls of rushing water!
On this tour of South Africa, you can do the same things that we did.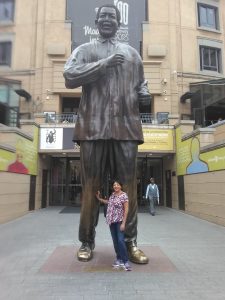 When first arriving, we flew into Johannesburg and stayed at the fabulous Garden Court Sandton City Hotel. This hotel is situated right across from one of Africa's largest and most popular shopping malls in in South Africa right in Sandton City, an affluent section in Johannesburg near downtown. Sandton City Mall is the location of Nelson Mandela Square where you can take pictures with a huge statue of South Africa's iconic son and freedom fighter the late great Nelson Mandela. There are all types of nice shops, restaurants, and entertainment venues for your vacation pleasures at this mall.
We will explore the Apartheid Museum which is a must-visit for anyone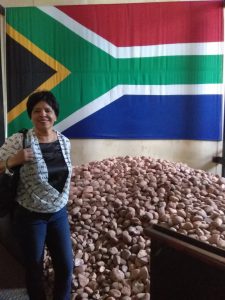 visiting Johannesburg or South Africa. Known throughout the world, it is one of the most popular museums in all of Africa with thousands upon thousands of visitors each year. The museum contains all types of relics, photos and stark reminders of this dark period in South African history and the laws that adversely affected so many people. The Apartheid Museum is also a somber reminder of how far South Africa has come, and it is also a tribute to the contributions of Nelson Mandela. Here you will find various pictures of this great man, the work that he did and key moments in his life. While visiting, you can go to the gift shop and have lunch at the very tasty Apartheid Museum's Truth Cafe as our group did.
When riding around Johannesburg, you can visit different markets for all types of African clothing, art, crafts and souvenirs to take back home. Be sure to get pictures of the Soccer City World Cup Stadium, the largest stadium in South Africa where Nelson Mandela gave his first speech after being released from prison and where his memorial funeral services was held.  One very good restaurant where we dined was the Chief's Boma with over 120 African inspired dishes, complete with the live Marimba Band. Also, just outside of Johannesburg city limits, we did a guided tour of Liliesleaf Farm which was a secret meeting place of the African National Congress in the 1960's. Now a museum and world-famous heritage site, it is the location where many prominent African National Congress leaders were arrested.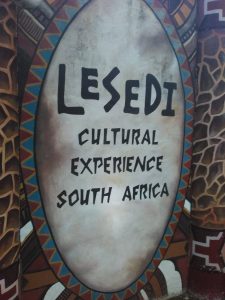 After leaving the farm, we visited Lesedi Cultural Village, a simulated multi-cultural African Village where we got a glimpse of what village life is like-thatched homes, beautiful blankets, colorful murals and cozy beehive huts. We really experienced African heritage when we were divided in small groups and assigned to different tribes to learn different African cultures and traditions. Our cultural interaction at Lesedi Cultural Village included opportunities to learn African dance steps and drumming. After interacting with people and immersing ourselves in the culture, we immersed ourselves in the cuisine. Our buffet dinner featured British, American and African foods. We got to choose from exotic dishes and meats that included beef, lamb, fish, chicken, and some of us were brave enough to try crocodile!
Then from Johannesburg, you'll get to do the day trip to Soweto, the largest and most popular township in Africa. Soweto is where many uprisings took place during the anti-Apartheid era. Here you will visit Freedom Square and walk down Vilakazi St. that honors two recipients of Nobel Peace Prize Winners, Nelson Mandela and Bishop Desmond Tutu, where his home is located. In Soweto you will visit the awe-inspiring Hector Pieterson Memorial which was built to honor the young teenage boy killed by police during the Soweto Uprising in 1976 where many youths participated and others along with Hector Pieterson were killed.
Every day that we stayed at the Sandton City Garden Court Hotel, we enjoyed a full buffet breakfast and dinner that comes with hotel registration Then we went to Pretoria, South Africa's administrative capital where we were given a guided tour that included the spectacular, controversial Voortrekker Monument, and the Union Buildings where Nelson Mandela was inaugurated at South Africa's first democratically elected president. This is also where his body laid in state immediately after his death in 2013. Here you will get to see the world's largest statue of Madiba (an honorary title for Nelson Mandela adopted by elders of his clan). Leaving this historic city, we drove by the US Embassy in Pretoria, which has the second highest number of foreign embassies in the world with Washington DC being the only other city with more.
During the tour of South Africa, we did the little over two-hour drive from Johannesburg to Sun City. On the way to this city that musical icon Michael Jackson was once a part owner of, we stopped at the Chameleon Village market which houses the most distinctive and comprehensive African markets in the country. Here you can wheel and deal with prices on crafts, curios, antiques artifacts, and all types of gifts from around the African continent. A visit to this market village en route to Sun City is a pleasant and vibrant experience.
Located in the deep heart of the North West province,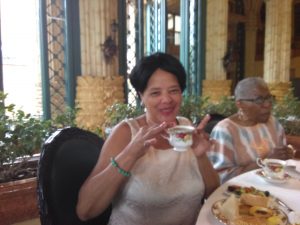 Sun City is the Las Vegas of South Africa that offers show-stopping entertainment casino thrills, dining experiences, golfing, watersports, bike tours and plenty of things that you would expect to do at a resort city.  There is even a man-made beach here! Sun City is where we had High Tea time at the Crystal Court restaurant at the magnificent Palace of the Lost City Hotel. While visiting Sun City, we even did a safari tour at the nearby Pilansberg game reserve where got a glimpse of most of the Big 5 (Elephant, Lion, Buffalo, Rhino, Leopard), giraffes, zebras and other animals.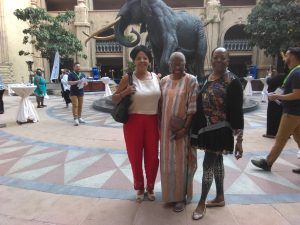 After much fun in Sun City, we boarded Kulula Airlines for Cape Town.  A paradise city where you can get many views of the beautiful mountain ranges on breathtaking blue waters and beaches, Cape Town is one of the world's most popular vacation destinations. We did a tour of the Cape Peninsula, along one of South Africa's most scenic and popular routes. Many tour group members also took the cable car to the top of popular Table Mountain which takes only about four minutes to get to the top. At the top you "can see forever" with a 360-degree view of all the "Fairest Cape" has to offer. While in Cape Town, we also did the tour of Malay Quarter, Signal Hill (which overlooks Cape Town) and the District Six Museum.
During our four-day stay in Cape Town, we also got to visit the famous Groot Constantia Wine Farm, located against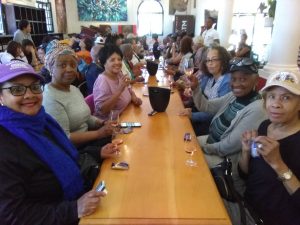 backdrop of the majestic Table Mountain. This is where we sampled renowned Chardonnays, Blancs and Steins of the sought-after Cape winelands. Later that day we also did the Green Market Square, a must-do when in Cape Town. A produce market since 1806, it is now a colorful open-air flea market area with many stalls and vendors selling clothing arts and crafts of all kinds. There are many shops, cafes and coffee shops in the Green Market Square area where you could really delight yourself all day. We ended the day with dinner at the Gold African restaurant where striking African artwork and details adorn the walls and various sections throughout the restaurant. We were delighted by the entertainers, giant Mali puppets and drumming show both during and after dinner.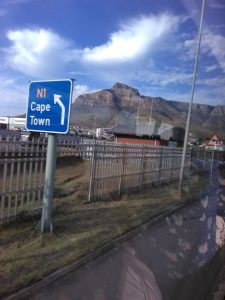 No trip to Cape Town is complete without visiting the world-famous Robben Island, another highlight of the trip. We went to the Victoria and Alfred Waterfront where we gathered at the Clock Tower at the docks for the boat ride to Robben Island for our guided tour. Here is where we visited the prison that was Mandela's home for 18 years. We were able to photograph Mandela's cell, his recreation room and his meal hall. On the island, we saw the quarry where Mandela was forced to spend hours a day breaking rocks. The visit to Robben Island to view Mandela's cell is really a pilgrimage of the Nelson Mandela Heritage Trail in South Africa that is a commemoration that all people of African descent must experience.
Even though the Mandela Heritage Trail, Cape Town and Zambia's Victoria Falls were important highlights of this trip of a lifetime, I must admit that every aspect and everything that we did were exciting highlights. We experienced all types of tourism adventures in South Africa and there was something thrilling to do every day during our two week visit. Exploring and experiencing South Africa is well worth your time and money. No wonder South Africa is one of the top two destination countries in Africa and a top vacation experience in the world. Unforgettable moments and memories that will last a lifetime await you in South Africa.
South Africa- To join us or for more information, contact Kitty J. Pope at [email protected] or (678) 499-6562.