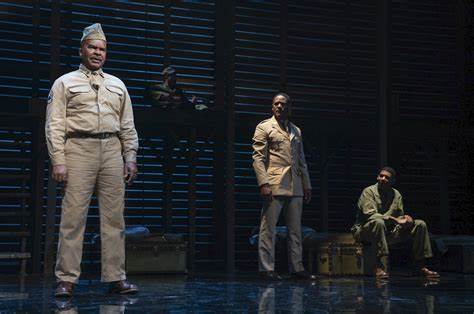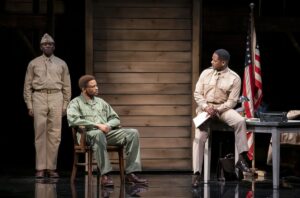 A Soldier's Play debuted on Tuesday, March 28 to an enthused audience at the Fox Theater in Atlanta. The hair-raising drama proved to be authentic and exciting, keeping the audience on edge throughout the play that progressed like a who-done-it mystery about the murder of a black sergeant on a Louisiana army base. This is a powerful must-see play that gives the audience an opportunity to find a piece of themselves in it. One of the play's overall messages is that we must get rid of hate through understanding.
A Soldiers Play is directed by Atlanta's own Kenny Leon, former director of Atlanta's Alliance Theater (1900-2000) who is a Tony Award winner and the co-founder of True Colors Theater Company. It is a riveting production from playwright Charles Fuller, who won the Pulitzer Prize for drama for the work in 1982, making him the second African American in history to win the Pulitzer Prize for Drama.
In the opening scene, an African American sergeant, Vernon Waters, (played by Eugene Lee) is shot dead and the black troops who served under him suspect the Klan because there had been assaults by them against black soldiers.  Also in the opening scene Captain Richard Davenport, an African American lawyer, played by critically acclaimed theater star and tony Award nominee arrives on the base to investigate the murder. He learns that virtually every character has a motive to murder Sergeant Waters, who was known to be cruel to his troops.
When Captain Davenport starts interviewing the troops, he learns how Sergeant Waters sometimes singled out some soldiers for abuse. Walter, who is from the North, was particularly hard on those from the South because he saw them as uncouth and beneath him. Still the white soldiers on base see him as indistinguishable from his subordinates, which prods Waters to turn his anger on the black soldiers.                                                                                                     
When Captain Davenport tells a white officer he'd better get used to having black people in charge, whoops and applauds burst out in the audience. The play is thought-provoking and, in some ways, shows that some things have not changed in terms of race relations. Set on a segregated army base during World War II, the play seems to tackle racism in a way that is seldom seen on Broadway. But a take-away from this play is that there is still hope to combat racism and hatred through understanding. 
A Soldier's Play is touring the country and runs at the Atlanta Fabulous Fox through Sunday, April 2nd. For more information and to get tickets for shows in Atlanta, visit FoxTheatre.org.
Photo Image: Joan Marcus