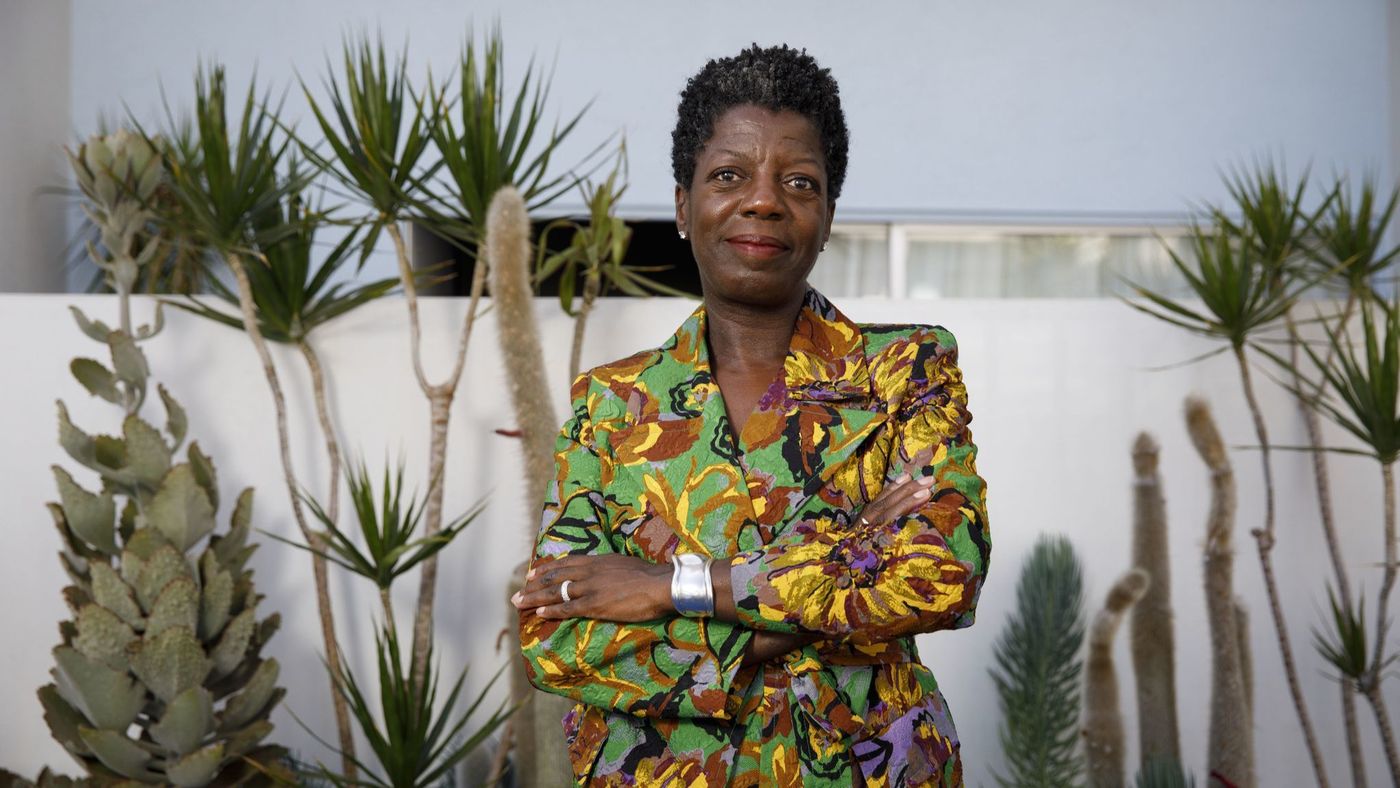 If you were to describe the Studio Museum in Harlem by its physical size, you'd have to say it's small.
Its home is unassuming — a turn-of-the-20th century commercial building on 125th Street in New York City whose Beaux-Arts design is dressed up with a modern entrance. And its collection is modest: 2,200 objects focused on art by African American artists over two centuries. (As a point of comparison, the Whitney Museum of American Art, also in Manhattan, has 23,000.)
This intimate scale can be surprising to the first-time visitor.
"Often, it makes me laugh when people who have never been to the museum would come visit," says Thelma Golden, the museum's director. "The two things people would often say is that they thought I'd be taller and that the museum would be much bigger." She grins.
Golden is small, barely cracking 5 feet, a fact that is prominently noted in just about every profile ever written about her — profiles that also never fail to mention her meticulous fashion sense. (For our interview, she materializes in a bright floral jacket and a pair of sculptural animal print sandals.)
Being small, however, doesn't mean lacking power. The Studio Museum's reach extends far beyond the walls of its former bank building in Harlem. And Golden's hand has been present in trailblazing exhibitions that have traveled all over the country and in the careers of countless artists and curators who have had their work nurtured by her institution at critical moments in their development.
These achievements are why Golden will be one of three prominent cultural figures, along with philanthropist Agnes Gund and sculptor Richard Serra, who will receive a 2018 J. Paul Getty Medal in a special event at the Getty Center on Monday evening.
"I don't think you can say 'African American art' without saying 'Thelma Golden,'" says James Cuno, president and chief executive of the J. Paul Getty Trust. "You can't say 'contemporary art' without saying 'Thelma Golden.' You can't say 'Harlem' without saying 'Thelma Golden.'
"There isn't a museum director who has done more for her institution than Thelma has done for hers."
Seated poolside at the Standard Hotel in West Hollywood, where she has landed in advance of the medal ceremony, Golden is both humbled and proud as she considers her three decade-long career in the arts and her nearly two-decade stint at the Studio Museum, where she has served both as curator and director.
"If you look at the collection of the publications of the Studio Museum," she says, "one would imagine that the Studio Museum is a much bigger, much richer institution."
"I correct myself: The Studio Museum is big, and it's always had an incredibly big ambition."
The ripples of that ambition can be felt throughout the art world, where it is practically impossible to go a few feet without running into someone who has a connection to the museum.
Studio Museum exhibitions have appeared in Chicago, Boston, Philadelphia, Houston and Toronto. In Los Angeles, Studio Museum artist retrospectives and groups shows have landed at the Hammer Museum and the Santa Monica Museum of Art (now the Institute of Contemporary Art Los Angeles, or ICA LA).
The latter showcased the defining 2001 exhibition "Freestyle," which explored how some black artists in the post-civil-rights era were moving away from direct representations of identity — a show that Times art critic Christopher Knight described as "engaging" and "provocative."
"Freestyle" not only broke ground in the way in which it presented ideas of the "post-Black" but it also helped ignite careers, including those of installation artist Eric Wesley and painter Mark Bradford, both of whom are from Los Angeles.
"I don't think you can say 'African American art' without saying 'Thelma Golden.' You can't say 'contemporary art' without saying 'Thelma Golden."
-JAMES CUNO, PRESIDENT AND CHIEF EXECUTIVE, J. PAUL GETTY TRUST