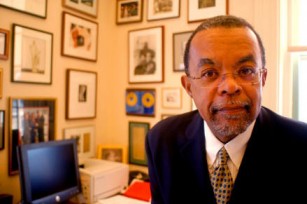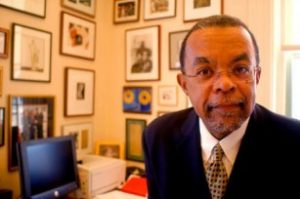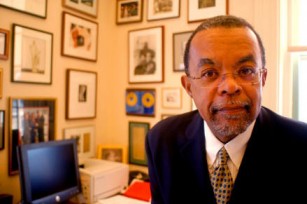 Although he has been well-known as a leading scholar of African-American literature, history and culture since the 80's, Dr. Henry Louis Gates, Jr. became endeared to the American public through his television PBS special  mini-series, especially 'African American Lives' that he hosted in 2006 and 2008. As host of the show, he explored the genealogy of prominent African Americans and celebrities like Oprah Winfrey. He continued to build his reputation in part on his talents as a researcher and later went on to broaden his scope and traced ancestry of all races. Reruns of his shows and his most recent documentary 'Black in Latin America' have continued to gain widespread acclaim and appeal.
Gates graduated from Yale University in 1973 with a degree in history and continued his education at Clare College, which is part of Cambridge University in England. He finished his doctorate degree in 1979 to become the first African-American to receive a Ph.D. from the university. Bearing many titles, Gates is an educator, literary critic, scholar, writer, editor, executive producer, author and presenter. He was the first African American to receive the Andrew W. Mellon Foundation Fellowship. He has received numerous honorary degrees and awards for his teaching, research, and development of academic institutions to study black culture. Gates sits on the boards of many notable arts, cultural, and research institutions. He is the Alphonse Fletcher University Professor at Harvard University, where he is also director of the W. E. B. Du Bois Institute for African and African American Research.
Gates is the author of Faces of America (New York University Press, 2010), which expands on interviews he conducted for his critically acclaimed PBS documentary series of the same name, and Tradition and the Black Atlantic: Criticism in the African Diaspora (Basic Books, 2010). His latest book is Black in Latin America. Gates is Editor-in-Chief of TheRoot.com, a daily online magazine on issues of interest to the African American community. He is also the editor of Oxford African American Studies Center, the first comprehensive scholarly online resource in the field of African American and Africana Studies. He is co-editor of Africana: The Encyclopedia of the African and African American Experience and co-editor of the eight-volume biographical encyclopedia African American Lives.
In addition, Professor Gates is the author of several works of literary criticism, including Figures in Black: Words, Signs and the 'Racial' Self (Oxford University Press, 1987); The Signifying Monkey: A Theory of Afro-American Literary Criticism (Oxford, 1988), winner of the 1989 American Book Award; and Loose Canons: Notes on the Culture Wars (Oxford, 1992). He is the author of Colored People: A Memoir (Knopf, 1994), which traces his childhood experiences in a small West Virginia town in the 1950s and 1960s; The Future of the Race (Knopf, 1996), co-authored with Cornel West; Thirteen Ways of Looking at a Black Man (Random House, 1997); and In Search of Our Roots: How Nineteen Extraordinary African Americans Reclaimed Their Past (Crown, 2009), which won an NAACP Image Award in 2010.
An influential cultural critic, Professor Gates' publications include a 1994 cover story for Time magazine on the new black Renaissance in art, as well as numerous articles for The New Yorker. In addition, he has edited several anthologies, including The Norton Anthology of African American Literature (W.W. Norton, 1996), and The Oxford-Schomburg Library of Nineteenth Century Black Women Writers (Oxford, 1991), and is the co-editor of Transition magazine. Previously for PBS, Professor Gates produced and hosted Wonders of the African World (1999), America Beyond the Color Line (2004), African American Lives (2006), Oprah's Roots (2007), African American Lives 2 (2008), Looking for Lincoln (2009) and Faces of America (2010).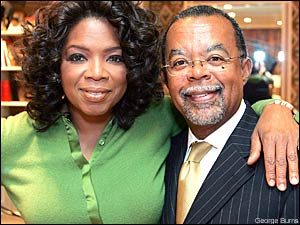 Professor Gates earned his M.A. and Ph.D. in English Literature from Clare College at the University of Cambridge. He received a B.A. in English Language and Literature, summa cum laude, from Yale University in 1973. Before joining the faculty of Harvard in 1991, he taught at Yale, Cornell and Duke Universities. Professor Gates has received 51 honorary degrees, as well as a 1981 MacArthur Foundation "Genius Award," the 1993 George Polk Award for Social Commentary, and the 2008 Ralph Lowell Award, the Corporation for Public Broadcasting's highest award. In addition, Professor Gates was named one of Time magazine's "25 Most Influential Americans" in 1997, one of Ebony magazine's "100 Most Influential Black Americans" in 2005 and to Ebony's "Power 150″ list for 2009. He received a National Humanities Medal in 1998, and in 1999 was elected to the American Academy of Arts and Letters. In 2006, he was inducted into the Sons of the American Revolution after tracing his lineage back to John Redman, a Free Negro who fought in the Revolutionary War.
Professor Gates served as Chair of the Department of African and African American Studies at Harvard from 1991 to 2006. He serves on the boards of the  New York Public Library, the Whitney Museum, Lincoln Center Theater, Jazz at Lincoln Center, the Aspen Institute, the Brookings Institution, the Studio Museum of Harlem, the NAACP Legal Defense Fund, and the Center for Advanced Study in the Behavioral Sciences at Stanford.
Source: Fas.Harvard.edu